Welcome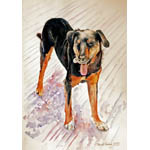 The Gallery contains a variety of my watercolours painted over a few years.
I am relatively new to watercolours having returned to a love of painting after many years of rugby and racing up and down wet Scottish hills (and working.)
The Scottish hills remain but the resilience to play rugby has long since past and been replaced by the more tranquil pursuit of painting.
I started by illustrating my hill walking log with Wainwright style ink drawings, moving on to watercolours depicting mountain scenes and other landscapes.
I have even tried the odd portrait.
The paintings represent hours of enjoyment working away in my shed. I hope that you enjoy looking at them.
I am exploring the medium: trying to let the colours flow and mingle whilst keeping them vibrant; trying to avoid the dreaded "mud".

If you are interested in any of my work or techniques then please contact me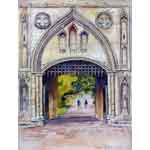 My paintings reflect an interest in
hill walking
and my local area of East Anglia.
Light, rock and water are themes which I'm currently exploring
. . . but I'm
open to suggestions
I am painting as much as I can so keep an eye on what's new in the gallery.
Thanks are due to two young people:George Nunn who designed the site and Graeme Knott who helps me to maintain it.