Hill Walking
One of my passions is walking in the hills, particularly Scotland.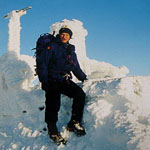 I started in Summer 1986 with Creag Meagaidh and finished my first round on Stob Coire Sgreamhach in the Summer 2010 .
284 out of 284 "compleated" (current list now reclassified to 282)
I am continuing to transfer my climbing log. Click here to see my progress
Here is a small selection of my photographs.
Others can be accessed through the log.